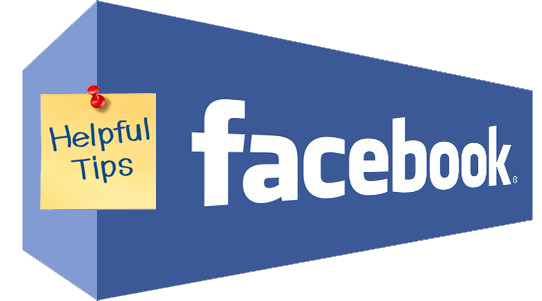 These days there's a lot you can do with Facebook. It's the app you likely spend the majority of time using on your phone, whether it be finding the latest news or staying in touch with family or friends. FanPageCash.org has collected some of the best tips and tricks you may not know about (and should know about). So get ready, it's time to start using Facebook like a pro.
Tip#1: See something interesting in your News Feed but don't have time to read it? You can save it for later!
Your saved links, videos, photos and more are accessible from the "Saved" page on your Facebook page. The section is included under the "More" tab in the Facebook app.
Tip#2: Stop all those annoying game invites. (damn you CandyCrush!)

There's an easy way to keep those pesky Facebook games like Candy Crush from spamming you with invites.
Under the "More" tab in Facebook's mobile app, select "Settings" then "Account Settings" followed by "Notifications." Go to "Mobile" section, scroll all the way to the bottom, and un-check "Application Invites."
Tip#3: Turn your profile photo into a short video clip (gif).

Use the Facebook mobile app, select your profile picture and then "Take a New Profile Video" to upload a short video of yourself. The result looks like a mix between an animated GIF and a moving picture. Almost no one uses this feature, so your friends will be impressed.
Tip#4: Status updates with a little lightning bolt load natively in Facebook, which typically means they load faster with fewer advertisements.

Facebook Instant Articles are a new feature to the social network, and they load directly inside the Facebook app with a clean, minimal layout. If a story is an Instant Article, you'll see a little lightning icon in the top right of its header photo.
Tip#5: Auto-playing videos pissing you off or eating too much bandwidth? Turn them off easily.

If you do not want videos on Facebook automatically playing in your newsfeed, you can turn the setting off. Under the "More" tab in the Facebook app, select "Videos and Photos." You can choose to auto play videos over cellular and Wi-Fi connections, just Wi-Fi, or never.
Tip#6: Go back in time!

Facebook allows you to go back in time to see what were you doing on the very same day. Facebook's "On This Day" feature shows your activity on its social network on the same day from years past. Think of it as your personal time capsule. Only you see your "On This Day" activity, however, it is possible to share it with your friends.
Tip#7: Activity log, the most unused yet incredibly useful feature.

Your Activity Log on Facebook documents all of your activity on the social network in an easy to read layout. It's accessible on your profile from both the desktop site and mobile app.
Tip#8: Not seeing what you want? Select profiles and pages you never want to miss updates from in your news feed.

If there are certain people or fanpages you want to see first in your feed no matter what, you can select them in the Facebook application. Click "Settings" under the app's "More" tab and then "News Feed Preferences" to get started. People and fanpages you've marked will have a little blue star next to their posts in your news feed.
Tip#9: Check out what your profile looks like to the public or individual friends.

This is handy for seeing what on your profile is showing other groups, including individual friends you may have hidden certain posts from in the past.
When you're logged into Facebook on the desktop website, go to your profile, click the ellipsis and then choose "View as…"
Tip#10: Want to share something, but you don't want that one friend to see it? Block him from seeing individual posts!

Your Facebook status updates can be shared with your friends, friends and friends of friends, or the entire internet. You can select these sharing options on a case-by-case basis from the drop down menu at the top right of a post. Using the mobile application select "Edit Privacy" and select one of the options. From the desktop, just click the little friends or globe icon next to a post's time stamp. If you want everyone expect a few people to see a post (for whatever reason), you can choose to hide it from specific people by selecting "Friends except…" on the mobile app and "Custom" on the desktop version.
Tip#11: Keep your friend's list private.

Oh, the drama of friendships, sometimes you just have to hide the people you know from others. If for some personal reason you don't want people seeing who your friends are, you can hide the list entirely. From your friend's list click the "Manage" pen icon on the right and then "Edit Privacy." Then you can choose who can see your friends list, the people you follow, and your followers.
Tip#12: You can hide your relationship status change from your friends.

So you like to date a lot, nothing wrong with that. However, it could be potentially disastrous for your friends to see your relationship status change. You can prevent relationship changes from being seen by anyone except you. This means the change won't show up in your friend's newsfeeds. While editing your profile under "Family and Relationships," change the privacy filter to "Only Me."
Tip#13: See if anyone has access to your account, by checking the login/logout history.

From the Facebook mobile application, tap the "More" tab then Settings > Account Settings > Security, and finally "Active Sessions." You can click the "X" to remotely log out of any device or Facebook app you're logged into (in case you forgot to logout). From your Security Settings on Facebook's desktop version, the "Where You're Logged In" menu shows active logins and lets you end them with one simple click.
Tip#14: Keep your account secure and, get alerted every time a login attempt is made for your account.

Login Alerts and Login Approvals can be enabled under "Security Settings" in the mobile application and desktop version of the site. You can choose to get a Facebook notification or email whenever a login is made. Login Approvals mean that you'll have to enter a secondary code sent to your phone before logging into Facebook if you're using a new device.
Tip#15: Have a crush? Need to follow someone closely? Get a notification every time a specific person posts something.

If you want to keep tabs on someone's Facebook activity (wife/children/love of your life), you can get alerted every time they post or share something. Just click the "Friends" drop down from their profile on Facebook's desktop site and "Get Notifications."
Tip#16: Since we're talking about stalking, let's take it to the next level. Search for posts and photos liked or commented on by a specific person.

This really does take stalking to the next level. You can search for posts liked or commented on by one of your friends simply by searching the phrase: "posts liked by FRIENDS-NAME-HERE".
Tip#17: You can now tell friends how to pronounce your name correctly.

Are you tired of people pronouncing your name wrong? You can teach them with this neat Facebook feature. While editing your profile on the desktop, go to "Details About You" to get started. You can also add a nickname (Scarface?) for yourself to display with your profile.
Tip#18: Tell Facebook won't you don't like seeing in your News Feed to improve its recommendations

Your News Feed isn't organized in a chronological way. It's a mix of posts Facebook determines you may be interested in based on how you interact with the social network. If you see a post you don't like, tap the drop-down arrow to the right and select "I don't like this post" to let Facebook know it should show you less of that kind of content.
That pretty much covers it, if you have any more useful tips submit them in the comment section below.