According to Google, changing your Facebook fanpage name is a simple four task operation (see image below). However, most fanpage owners know that once your fanpage reaches 200 fans, it is nearly impossible to change the name. This is because Facebook does not allow name changes after 200 likes, and they manually review requests for fanpages that go over that number. Getting passed a Facebook staff member can be tough, but you can increase your chances if you follow these basic guidelines.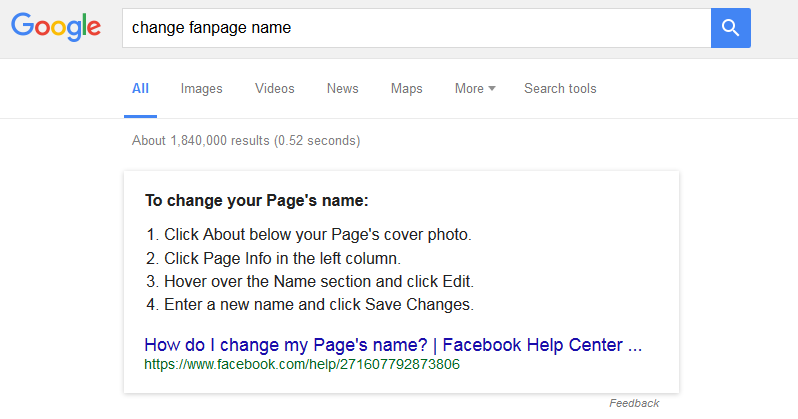 So, how do we change a fanpage name after 200 likes?
To begin changing your name, you will first have to find the form that will allow you to submit the request. To locate the form, you need to follow the steps outlined by Facebook.  Below are the instructions copied directly from facebook's help center:
You'll need to be an admin to change your Page's name. To change your Page's name:

Click About below your Page's cover photo
Click Page Info in the left column
Hover over the Name section and click Edit
Enter a new name and click Save Changes

If you don't see the option to edit your Page's name:

You don't have a Page role that allows you to change your Page's name. Learn how to

see your Page role

.

You or another admin recently changed your Page's name.

This option isn't currently available in your location.
See the "This option isn't currently available in your location" bullet point? This is the most common problem many fanpage owners will encounter, as their current location is preventing them from seeing the actual link that allows an admin to file a request for a name change. While we aren't fully sure, it seems that only a select few countries have the name change feature enabled, and they include the United States, United Kingdom, and Australia. So we've conducted a small study to verify if these claims are true. We have tested all the three countries, and concluded that only the United States version of Facebook had the name change link every time we've tried, while the UK and AU were a hit or a miss. So does that mean you can't change your fanpage name if you live in Europe? Or any country other than the United States? According to our tests, it seems that this is true, and people outside of United States will not have the option to change the name. However, there is a workaround. Facebook does not actually check were you're from when they enable or restrict the name change feature, they only check the current login session IP. To put it in layman's terms, you need to login to Facebook from the United States, in order to see the name change link option in your settings panel.
But that is so inconvenient, right? How will one ever manage to do that living outside of the States? Well in the age of technology fooling Facebook is quite easy. More advanced users will simply use an US-based proxy server to connect to facebook, and novice users can use browser friendly plugins that will allow them to change their virtual location with a few clicks of a mouse. When you use a proxy server or a plugin to connect to Facebook, you can choose which location you connect from. This way facebook will think that you're connecting from the United States, thus allowing you to place a name change request. We have found a nice little tutorial on Youtube that novice users will appreciate. While the video is a little long and drawn out, it is a good guide for newbies that will explain exactly how to change your virtual location.
If you followed the instructions in the video above you should have the location problem out of the way, and you should able to see the name change link. Before you proceed with the form you need to make sure to follow facebook guidelines for names, before you submit your request. Remember, facebook almost never allows name changes that totally stray from the original fanpage topic/niche. For example, you can't change "I love BMW's" to "World Star Hip Hop Videos," that request will get declined almost every time. We say almost because in rare cases we have seen fanpages get a totally new name, but it is a very long shot. Normally facebook allows subtle changes, as long as they fit in the original category. For example, if your fanpage is named "I love when teachers diss loud students and make them embarrassed", you have a good chance of renaming it to just "I love teachers".
Now if you had your heart set on a totally new name there is good news. You can try to change your name change to anything  you want, because the worst case scenario is that you will get your request declined. But that does not restrict your ability to request a name change again. So you can keep trying until they comply, however, make sure not to abuse the system or facebook will ban your ability to request future name changes. To increase your chances make sure to write a thorough explanation on why you need it changed, and proof read your request.
Remember, a real human being will review your request, and he will appreciate your professionalism. Keeping the person on the other side happy increases your chances of an approval, so refrain yourself from writing like this: "Yo, I need this changed man because I need it for my new venture, trying to make these moniez!" Instead, try to point out how the followers would benefit from such a change, and what it can it do for the community. If you're planning to open up a website make sure to tell them, just be honest, professional, and keep trying until it works! Remember, Facebook staff rotates just like any other workplace, and just because you were denied once it does not mean that you won't get approved the next time.
If you have any questions, comments, or tips, please use the comment section below to let us know. Thanks and good luck!