If you ever tried to share our link (http://FanPageCash.org) with your friends or family members you were probably greeted by the following image: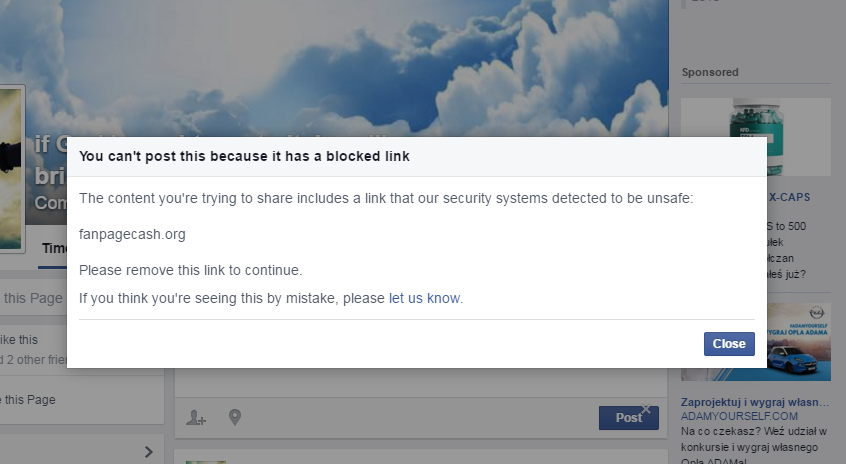 This is very inconvenient for us, as it suggests that somehow FanPageCash.org is a malicious site. Rest assured that we're still the only place on the web that is fully dedicated to buying and selling Facebook fanpages. Since 2010, FanPageCash has been facilitating deals between buyers and sellers in a safe and professional manner. This recent domain block on behalf of Facebook could be attributed to two reasons:
Reason #1
About 8 months ago Facebook made some changes to their internal algorithm that detects whether a link is malicious or not. Apparently, they made a huge mistake, as over 20% of legitimate links were instantly banned from Facebook. People posted countless complaints in the official FB help room, but many website owners didn't receive any help. This issue was even reported in the website bugs category within the Facebook's developer section. Facebook instantly responded with an update that supposedly fixed the issue, however, it didn't fix it for everyone. Yes, many websites were unblocked, but many were also stuck in the same place they were before. Since Facebook support almost never replies to support tickets, it is difficult to find out why we (and thousands of others) are still being blocked.
Reason #2
This reason, although less likely, is because Facebook actually blocked our domain from their website. Naturally, Facebook does not approve of our website (or at least we think), because it directly violates their Terms of Service (Fanpages are not to be sold without written permission from Facebook). However, we have no control whether people sell or buy  fanpages, and since this "scene" has been going on for years why not create a safe marketplace for such transactions? We have been on the market for six years now, and we worked hard on being the most professional and the most trustworthy service in our field. We make sure that transactions are conducted in the safest possible manner, and our reputation can attest to that.
In conclusion, no matter which reason our domain is banned for, we will still provide top-notch quality service to both buyers and sellers. People have been exchanging accounts/webpages/profiles/fanpages for decades, and for years fraudsters were taking advantage of this volatile market. It is pretty easy to scam someone when the nature of the item is virtual. This is why FanPageCash.org will stand guard and keep any would-be scammers away, so our clients and buy and sell Facebook fanpages with ease!
And one last thing, our domain, and server are as safe as they can be, confirmed by countless of online scanners and anti-virus companies: