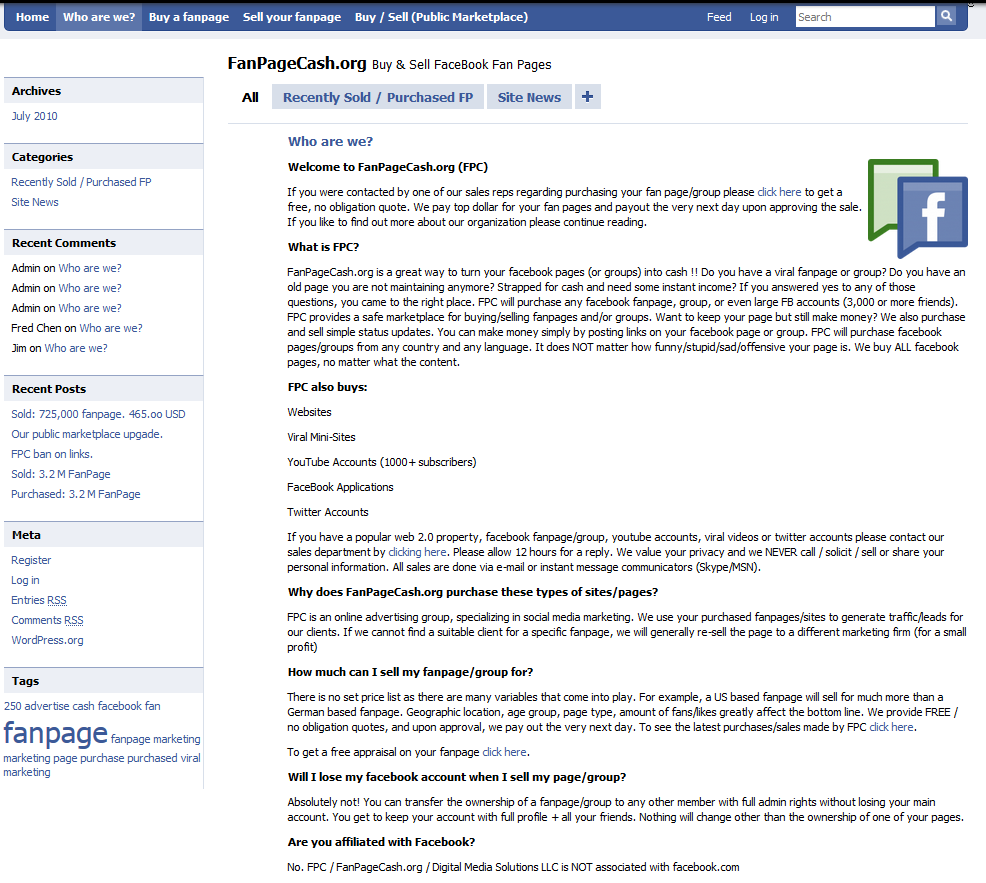 We came a long way since we first started nearly six years ago. Yes, that is right. That image you see above is the way FanPageCash.org looked like when we first started our company back in 2010. After thousands of successful transactions, we are happy to say that we're the longest and the most reputable company that exclusively buys and sells Facebook fanpages. For those of you who have been with us for a while, you know that our service and dedication is our number one priority. However, if you're new to our website let us tell you why you should buy and sell fanpages within our realm.
Online since 2010
FanPageCash.org has been buying and selling Facebook fanpages for six years now. We know, we have already mentioned that. But we take pride in our longevity, as most of our so-called competition is now gone. We have gone to great lengths to stay afloat, and we hope we can continue our services into the future.
Spotless reputation
We dare anyone to find valid complaints against our company. We can tell you right now that you won't find any. For over six years we have managed not to (excuse our language) piss anyone off, and again, we take enormous pride in that. With so many successful transactions you would imagine finding a few bad one's, no? Not with us! Because our company will work with all disputes and dissatisfied customers until they're fully happy and set.
Anonymity
Why is anonymity important? Facebook does not like when pages are being traded/sold, or even given away, so anonymity saves your Facebook fanpage (or even your personal account) from being deleted. Yes, that is right. Using open to the public platforms dedicated to buying and selling fanpages (like FameSwap or BluFlip) comes with an inherited risk, as it could mean the end of your social profile. Social giants monitor websites like that, and they remove and delete fanpages posted on such platforms. Besides, services like FameSwap offer no oversight, so you don't know the true intentions of the buyers or sellers. Anyone can post a link on an open to the public platform and claim it's their fanpage, so you really don't know what you're getting yourself into. We manually verify buyers and seller to make sure all sides of the spectrum are safe. We check if the account holders truly own the properties they're selling, go through the analytics, test activity, and much more!
Same day payouts
No hassle same day payments. Yep! Upon a successful negotiation, we will pay out within minutes.
So what are you waiting for? If you're looking to buy or sell a Facebook fanpage please give us a try, we promise you that you will not be disappointed.