Facebook currently boasts a 1.57 billion user base, that is a 14% increase from its numbers back in 2014. The social network's largest age demographic is between 25 to 34-year-olds, which comprises nearly 30% of its total user base. Another very interesting statistic is that half of its users of 18 to 24-year-olds check their Facebook right when they wake up. It is no wonder that this social media platform is now many marketer's wet dream.
So, what are the latest marketing trends @ Facebook?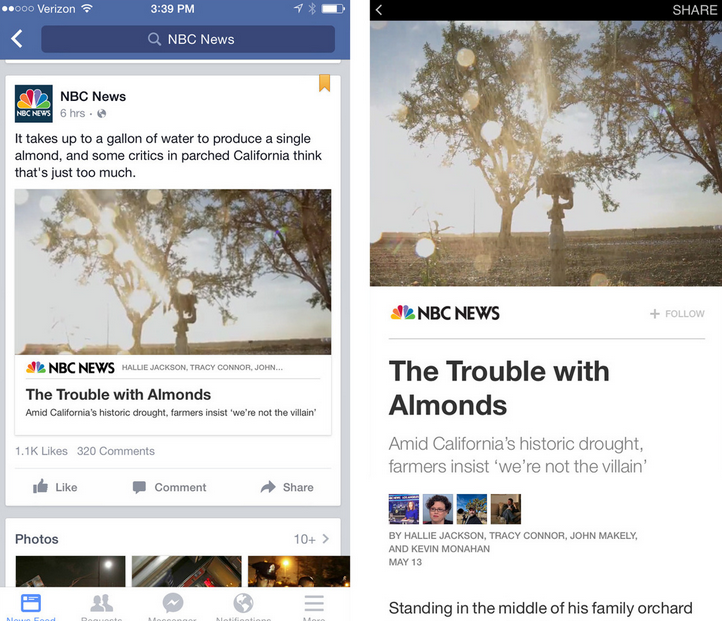 #1. Instant articles!
Facebook's new feature (Instant Articles) provides publishers and news outlets a fast loading page for viewers to access their videos, articles, and photos. The pages can load up to 10 times faster than traditional web-based articles. Some of the features include the ability for readers to zoom into high resolutions images, play the audio commentary, or watch a video while looking through an article. The higher load speeds are due to the fact that the content is hosted right on Facebook's servers. While the feature isn't very popular yet, instant articles may soon earn the preference in Facebook's user base. Marketers will be happy to know that publications do allow advertisement placements within these articles, and it might not be long before the big social giant releases this tool to a wider audience, so all content creators on Facebook can also take advantage of it. Facebook holds its position as a leader with these tools that enable the delivery of fast, relevant messages.

#2. In-depth targeting and expanded paid advertising.
Due to recent changes in Facebook organic reach has suffered. However, clever marketers will be able to spot the positive aspects of these changes,  in the form of advanced targeting tools Facebook has created. Facebook ads now have more options than ever before, and experienced marketers can pin point their demographic to the proverbial "T." Some novice users of social media may frown at the thought of paying for advertising that was free at one point, but the more experienced can take advantage of the meticulous targeting tools that Facebook has developed. Everything from age group to where your target audience went to high school can be used to fit your marketing needs. If you're still missing that organic reach check out these tips, they may help you increase your engagement levels.

#3. Create more Facebook videos!
Current trends show us that videos receive more organic engagement than static images. Facebook's new 360-degree video also provides a new way to tell stories and adds an element of interactivity, wonder and excitement for the readers. However, we encourage content creators to actually create content, and don't copy videos off YouTube. Recently Facebook is catching more heat for allowing users to profit from stolen videos.
The year has only started, but we're already seeing positive changes (from a marketer's standpoint). What will be in store for us for the rest of the year is anyone's guess, but let's stay positive and hope for the best.